The daughter of a close friend is to be married in late November.
She's such a sweetie that
everyone
begged to honor her with a shower.
My two friends and I won! So we began to plan right away.
It's hotter than beejeezers here in Southern California, but we still went with a fall theme.
It's October. Even though Fall isn't here, it ought to be.
Using this invitation, found on Etsy,
we settled on
Fall In Love
for our shower moniker.
---
It was decided that we'd go with the ubiquitous burlap theme.
White tableclothes and burlap toppers covered the patio tables.
---
Potted chrysanthemums and home grown pumpkins were placed down the center of the table.
The mums did double duty, serving as prizes later in the day.
---
Each guest took home a small burlap pouch filled with candied pecans.
The decorative leaf served as a place card.
As the luncheon progressed, the leaves were collected and used in a drawing,
which took place periodically.
---
A dispenser of pomegranate martinis stood at the ready.


The tree image from the shower invitation was used to create Signature Drink charms (aka: wine charms).


---
Bottled water provided some relief from the 90-plus degree weather.
Custom labels announced the couple's wedding date.
---
Burlap chair back covers, printed with the guest of honor's soon-to-be new initial,
helped to soften the look of the institutional folding chairs.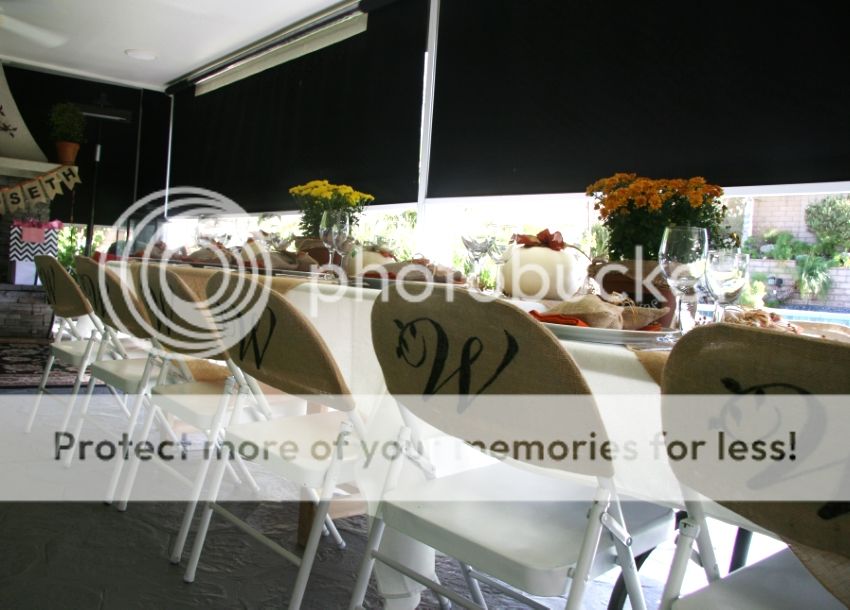 ---
Heat forced the buffet table inside.
The menu consisted of three types of sandwiches,
green salad, fruit salad, deviled eggs,
white wine, and water.
---
A burlap garland hung at the far end of the patio, where the opening of the gifts took place.
As the bride-to-be unwrapped her treasures, chocolate or carrot cake cupcakes were offered to the onlookers.
---
A Final Look
---