Have I mentioned my new granddaughter yet? She already knows how to kick and smile and make cooing noises. What a bright girl she is!
These spring days have made me think about putting the playhouse back together. I know its usefulness is really a couple of years away for little baby Zoe, but I can't wait. I miss the days when Gracie and Jessica ran in and out of the little house, imaginations in full gear.
It's inside this playhouse that they received their first How-To-Set-a-Table lesson.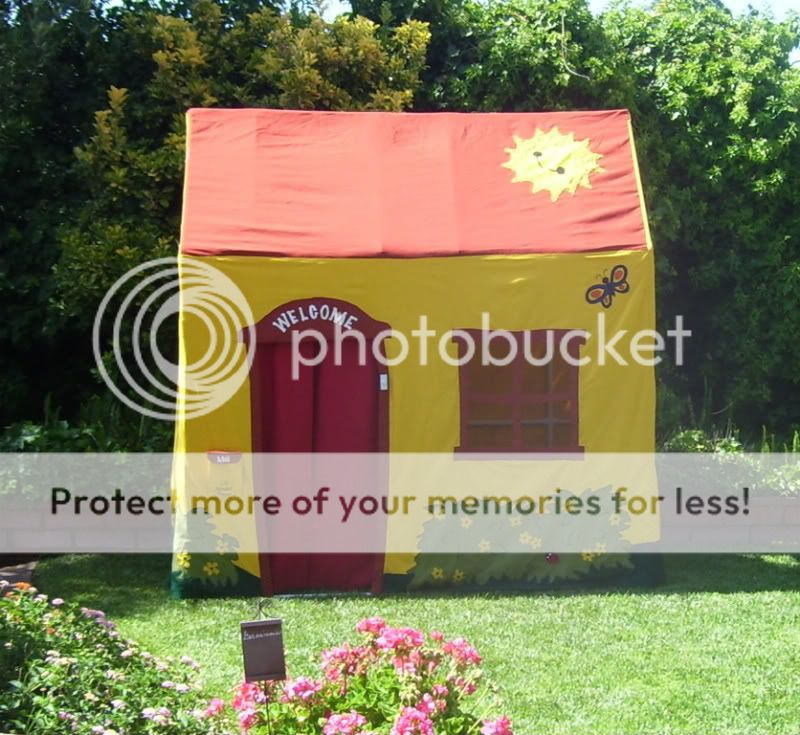 ---
---
The frame is made of
3/4-inch PVC pipe.
The glued sections are currently stored at the side of the house.
The fabric tent is in a
back bedroom closet.
---
There were no fabric patterns. Lengths of Sunbrella fabric were draped, wrong side out, over the frame. The fabric was basted together while it was still on the frame. Then the basted tent was removed and the seams were sewn on a machine. Some appliqués were added before the fabric was fitted to the frame, some later. Both playhouse tents were made in this fashion.
There is a skylight (clear plastic vinyl) sewn into the far side of the spring playhouse. The spooky house has no skylight, but instead, has a creepy plastic chandelier with flickering candles.
---
The spring playhouse has a cloth mailbox and a real wireless doorbell (about $11 at Lowes). The orange curtains were sewn directly onto the tent (indicated with dotted lines).
Black cloth was shredded and also sewn onto
the tent to make the spooky door. It feels like
cobwebs as you walk through the fringed door.
I always thought I'd get around to making a gingerbread tent for use in December. I procrastinated, and Gracie and Jessica got too old for playhouse play. Maybe I'll make one for Zoe to use.
---
August 19, 2013
Update: I just ran across
this post
. It has the most amazing "add-ons" for a cloth playhouse. It's worth your while to scroll through the pictures.
---
To PVC Lemonade Stand
To PVC Puppet Theater
---
I'm linking to
---
Hardwood Placemats