Our town is holding its annual Lemon Festival this coming weekend. Driving by all the banners and signs posted around town reminded me of last summer's fund raiser in which the girls and their brother did their small part to raise money to support girls soccer.
Try as I may, I've been unable to connect this post with tablescapes in any way. Still, I decided to go ahead with the posting. I've noticed that there appears to be a considerable amount of interest in our PVC playhouse and puppet theater.
Maybe this lemonade stand will be of interest as well.
In order to make one like this, you must order your Lemonade Stand Kit from that world famous toy company, Grandma's Warehouse, Inc. The kit comes with an instruction booklet and a rubber mallet. You supply your own paint, ice chest, lemonade dispenser, and balloons.
Since the customers who acquire the kit may be reading at a first grade level, the instructions are mostly pictorial.
No! Wait! That's not what I meant to say.
Since this kit rivals many of the up-scale pieces of furniture found in the IKEA catalogue, IKEA-type instructions are included.
Examples of instruction booklet pages are found below:
---
---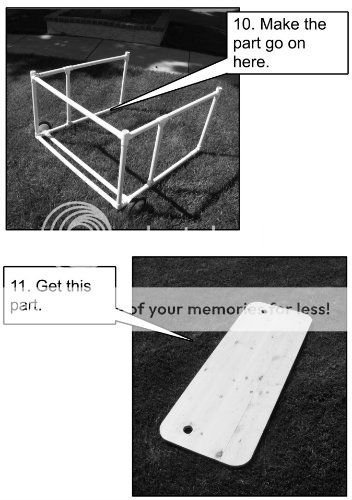 Working slowly but surely, you'll get to the fabric panels and sign.
---
And, finally you come to the last step, which they actually did first.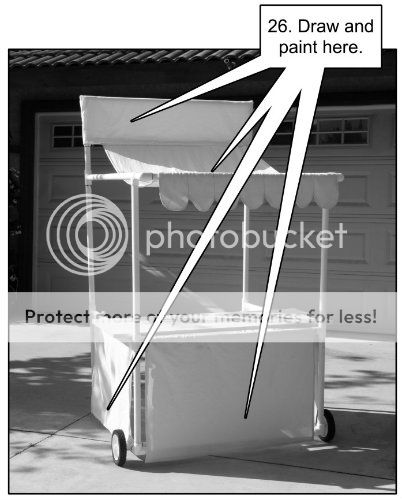 ---
Look up pictures of cartoon lemon figures on the internet for ideas.

Use twice as many cans of spray paint than is really necessary.


Tongue position helps with the painting. Don't forget to argue over who gets control of the paint pen.

---
Don't read carefully so that you end up putting the canopy on upside down - twice!
---
Attract customers.

Wait in the hot sun for drive-in trade.

---
To PVC Playhouse and Haunted House
To PVC Puppet Theater
---
I'm linking to
and