So Let's Have Fun with Dick and Jane . . . . and Gracie, too!
There are a lot of us out there in Bloggerland who learned to read using the famous Dick and Jane series. Although the series has been highly criticized by numerous educational groups (citing repetitious language, its famously manicured lawns, and an all-white cast of characters), it's obvious that
Fun with Dick and Jane
has left a favorable mark on millions of Americans. Nearly a thousand eBay listings for Dick and Jane memorabilia, museum exhibitions, and the present popularity of The Retro Look help to maintain the nostalgia.
I not only learned to read using these books (I'm holding a 1952 edition in the picture on the left.), but went on to teach, using old 1960 editions. (My school district saved everything!)
---
When my oldest grandchild was about to enter kindergarten, I went about creating a personalized Dick and Jane Reader. After taking hundreds of pictures of my grandchildren in different situations, I made up little stories based on the vocabulary and sing-songy text found in the first pre-primer,
We Look and See
.
All three of my oldest grandchildren have been introduced to the printed word using this book.
ComicLife software was used to design the pages. The Apple iPhoto Store printed the final copy. The book is hardbound with 8½" by 11" pages.
Some of the opening stories are reproduced below.
---
---
---
---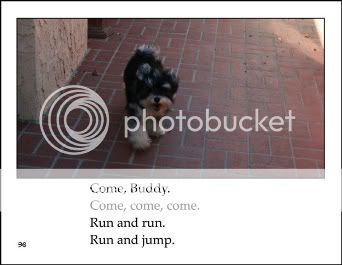 ---
---
Visit
Common Ground
for Vintage Inspiration Friday.
---