It all started with two peach baskets and a soccer ball.
James Naismith (1861-1939) invented the game of basketball. While teaching physical education at the Springfield, Massachusetts YMCA, Naismith found himself with a class full of unruly students who were stuck indoors due to harsh weather. The head of his department instructed him to come up with a new game that wouldn't take up too much room nor be too rough, yet would still help to keep the athletes in good shape. Thus, in December of 1891, basketball was born.
The first recorded college basketball game was played between Geneva College and the New Brighton YMCA on April 8, 1893.
Fast forward 119 years.
The 2012 NCAA Tournament dominates the month of March.
---
We have been following the madness!
---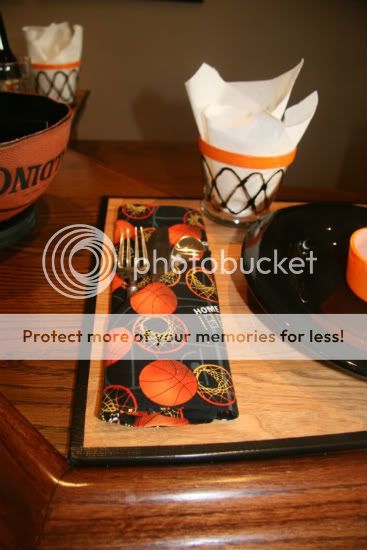 Hardwood placemats, made to represent a basketball court, mark each fan's space
at the bar.
Scroll to the end of the post to view
how they were made
.
Extra large napkins are at hand for drippy, greasy, but oh-so-delicious pub grub.
---
Nothin' but Net glasses, lined with paper towels, hold homemade french fries.
Pictures of the materials
used for this project are shown below.
---
Beer steins and individual dip bowls stand ready for the tip-off.

---
A yard sale basketball was converted into two chip holders.
Each ball half was glued to a wooden ring for stability.
Scroll down to view the
How-To Pictures
.

Oh, I can hear what you're thinking. Yes, it was hand scrubbed inside and out and sent through the dishwasher's heavy cycle twice. I was going to line the inside of the balls with plastic wrap, but never got around to it. Nobody's died of toxic poisoning so far.
---
A black and white poster-size print, trimmed to fit within an already existing picture, announces the Final Four Menu. I used a font called Chalkdust. It's free for both Windows and Macs.
Kinkos charged $2.42 for printing and paper.

---
The salt and pepper set can be found on eBay.
I couldn't resist. Bought two sets.
---
A basketball pennant is drapped above the television.


Come claim your seat. We're sitting just behind the bench.
---
To Super Bowl Sunday
---
Wooden placements: Laminate flooring, Lowe's; black duct tape, Michaels
Black dinner plates: no markings, yard sale
Flatware, Hammered, Pottery Barn
Napkins: fabric from Jo-Ann Fabrics and Crafts
French Fry Holders: Glass candleholder/vase, Dollar Tree
Basketball pennant: Party City
Salt and pepper sets: Cosmos Porcelain, eBay; seller: royalsagehome
Individual dip bowls: custard cups, yard sale
---
---
Hardwood Placemats
Two pieces of left over laminate flooring from an old remodel were snapped together and cut into a rectangle. The seam is reinforced with packing tape on the underside.




Edges were bound with black duct tape.

---
French Fry Holders


The glasses can be found in the vase section of Dollar Tree.

The paint comes from Michaels.


This project has taught me one important lesson: Glass painting is not a hobby I should ever consider taking up.
I bought 8 of these bowls at a yard sale for just pennies. I'm not sure if they were supposed to be prep bowls or custard cups. I've only used them as little dip and sauce bowls. Since I'm NEVER going to use the glass paint again, I slathered the outside of 4 bowls with the same orange paint I used on the fry holders.


---
Basketball Chip Holder


Cut two rings from 3/4-inch plywood.
Sand and paint black.




Place the rings on the ball halves. Using Gorilla Glue, make a ring of glue inside the wooden ring, where the base and the half-ball touch.

Weigh down with something heavy. Allow to dry.


Optional: Cut cardboard dividers like the ones gourmet popcorn companies use to separate different flavors.

---