From the beginning, this puppet project seemed never-ending.
The theater kept growing and growing and growing.
With no real plan to work from, it developed into the poor man's
Winchester House
.
As a result, construction flaws were numerous.
So you won't want to duplicate this particular theater.
But if you're planning on building one for some little puppeteers you know, read on. You may pick up a useful idea along the way (even if it's an idea on what NOT to do).
I've tried to note a few points throughout the post that you may not have considered.

Although there were no official plans for the theater, there were goals.
The theater's design had to allow for
(1) flat storage, outdoors, against the side wall of the house, in any weather,
(2) easy assembly and dis-assembly by one person with a rubber mallet, and
(3) accommodations for at least three young puppeteers and/or stage-hands at the same time.*
*This last point is important. Children need space to maneuver. Small, doorway theaters aren't very practical for more than two children (and it's a squeeze for two).

The theater consists of
(1) three 3/4-inch permanently glued pipe sections,
(2) five long lengths and 2 short lengths of PVC pipe, and
(3) a large plastic tub (not shown) filled with fabric panels.
Unless otherwise noted, all PVC pipe is 3/4-inch, Schedule-40.

The face of the theater consists of three hinged sections.
The two outer sections swing flat onto the center section for storage.


To make each hinge, cut two 6-inch lengths of 1-inch PVC pipe. (use the thinned walled pipe, as the thicker, Schedule-40 is too thick.)
Glue the two pieces side by side with PVC cement. Allow to dry.
The sides of the two sections you wish to hinge will slide through the hinge you just created. You will need to put a coupling on one of the vertical sides so that the top-most hinges stays in place.

The back of each side panel has two short pipe pieces (one with an elbow)
attached to the upper cross bar.
Their use will be apparent later on in the tutorial.


The lower corners of the stage opening also have pieces of pipe that extend outward.*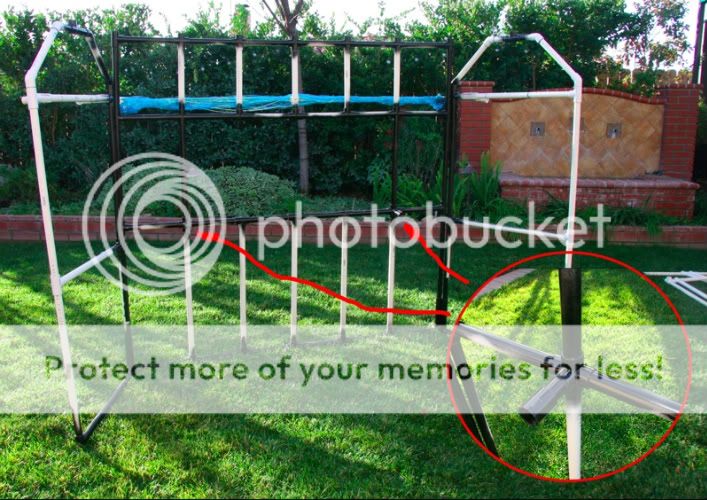 *These pipe pieces will help support a small shelf.
Props that are difficult for little puppet hands to control can be set on this shelf.
If at all possible, build your puppeteers a shelf.

A traverse rod* is attached to the inside of the center section, just above the stage opening.
It is attached with small nuts and bolts so that it can be removed and stored elsewhere if so desired.
Or you can cover the mechanism with plastic wrap as I have done and hope for the best.
*Young children love pulling the cord to open and close the curtains. This opening and closing gives them a sense of "acts" and how they divide up a play. A traverse rod is more efficient than a cafe rod. The actors, busy changing scenery and switching out props, will find a traverse rod greatly simplifies things. In addition, the youngest member of the group can be assigned the important job of Curtain Opener and Closer.

Two side sections and two single pipes attach to the back side of the stage to complete the theater's cage, as shown below.

The center front panel goes on.

The center panel has corresponding holes at the top that slip over the 4-way fittings.
These holes can accommodated poles for signs and flags if desired.

The fabric is wrapped around the front and secured with three large buttons.
Ties along the back of the stage opening keep the fabric close against the PVC pipe.*
*Plan on making these ties. The fabric WILL sag along the bottom unless it is secured to the pipe.

The outer panels are put on in the same manner as the center panel.*

*If possible, you will want to provide the puppeteers with a small "stage" that is independent of the larger, main stage. It cuts down on the need to make several background changes and allows the action to jump quickly from one location to another (a situation that often occurs in child-authored puppet plays).

Side panels are attached with buttoned tabs.

With the plastic wrap removed, the theater curtains are hung.


A black canvas backdrop curtain is attached to each side panel.

A larger black canvas panel hangs from a 1-inch PVC poll.
This backdrop keeps light from shinning through the painted backgrounds.*
*Unless your puppet troupe is painting backgrounds on heavy canvas and performing plays indoors with a darkened room behind them, they are going to need one of these. Trust me.

Backgrounds, painted on old sheets,
are threaded on 1-inch PVC pipe and hung from the top of the theater.
A twin sheet is enough material for two backgrounds.
PVC elbows are fitted (not glued) at each end of the background rod
to prevent the backgrounds from sliding off.

A wooden shelf, cut from a 1 X 6, is secured with a single screw.*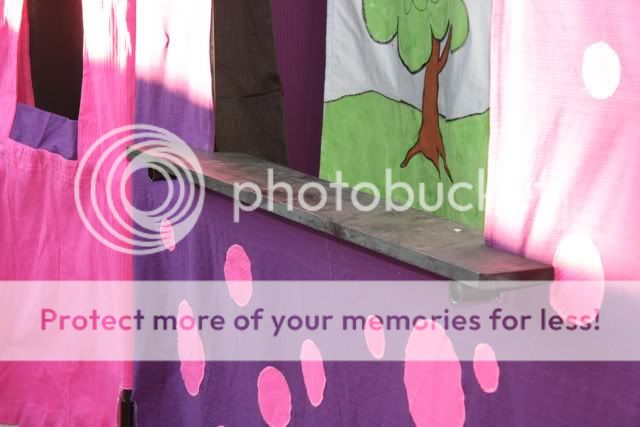 *OK. This can't be attached with a mallet. You'll also need a left-handed screwdriver.

Add flags and signs to create a festive atmosphere.
---
To PVC Lemonade Stand
To PVC Playhouse and Haunted House
---

I plan to link to:
Hope Studios
for Tutorial Tuesday,
Blue Cricket Design
for The Show and Tell Story,
Nikki's Niffy Knacks
for Gettin' Crafty on Hump Day and
Dittle Dattle
for Amaze Me Monday.