All right, I'll admit it.
The title of this post isn't as intriguing as
Jack London's, but it is appropriate.
The only thing that's calling these huskies
is The Call to Dinner.

A blue and white tablecloth, normally used for barbecues on warm summer nights,
lays the foundation for a cooler theme.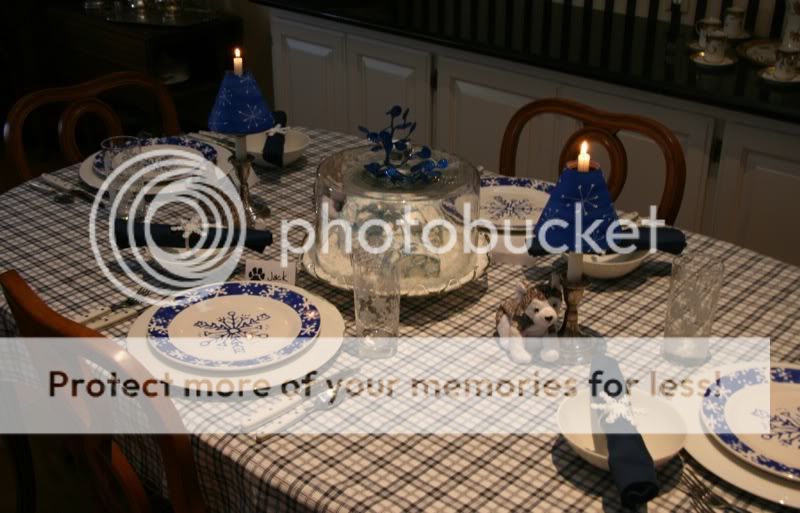 Snowflake dinner plates rest on white china chargers.
Snowflake tumblers, white salad bowls and white handled flatware
await a meal of comfort food and chilled lemonade.

Husky paw prints mark each place at the winter table.
Snowflake napkin rings secure the napkins.

White taper candles with candle shade carriers are placed at either end of the table.
The blue shades were made with blue paper and a white paint pen.






Candle shade carriers are used in conjunction with little metal shades. (Although I've never had any problems, I keep a real close eye on these shades whenever I use them.)





The carriers slide over the tapers. The metal shades are dropped down over the taper and rest on the top of the carriers. As the tapers burn down, they move down.

Shades of various colors and patterns are available. This metal shade is meant to be covered with custom papers or fabrics (which it has been many times).




An igloo cake serves as the centerpiece.
(Simple how-to directions can be found here.)

The Husky Hotel and surrounding area
received a fluffy white blanket during an overnight coconut storm.

MUSH!

Update, January 21, 2011:
I didn't realize it until I was doing a little blog organizing today,
but this post was published on Jack London's birthday, January 12 (1876).
Brrrrrrrr. Now that IS chilling.

I am linking to the following sites:


A Stroll Thru Life for Tabletop Tuesday.

Between Naps of the Porch for Tablescape Thursday.

. . . off on my tangent for Alphabe-Thursday's Letter N (North Pole?).

Tablecloth: Fabric and iron-on hemming tape
White chargers: Aspen Platter, Crate and Barrel
Snowflake plates, WCL, made in China, no other markings, Thrift Shop
White bowls: Elements, Culinary Arts, Crate and Barrel
White flatware: Purchased long ago, very inexpensive, came with a caddy
Snowflake glasses, Dollar Tree
Napkins: Crate and Barrel
Snowflake napkin rings: sprayed white (this time), Thrift Shop
Husky Soft Dogs: Mukluk (white eyes), Ty Beanie Baby, Amazon.com