A Thanksgiving Table
Our family Thanksgiving dinners are more and more casual these days.
Jeans and a collared shirt pass for acceptable attire.
Still, I like to set a nice table. So the challenge becomes one of emphasis - not too formal, but not too casual.

Traditional Thanksgiving dishes (turkey, stuffing, yams, etc.) will line the built-in buffet.
After the youngsters are settled and served, everyone is in charge of his own plate.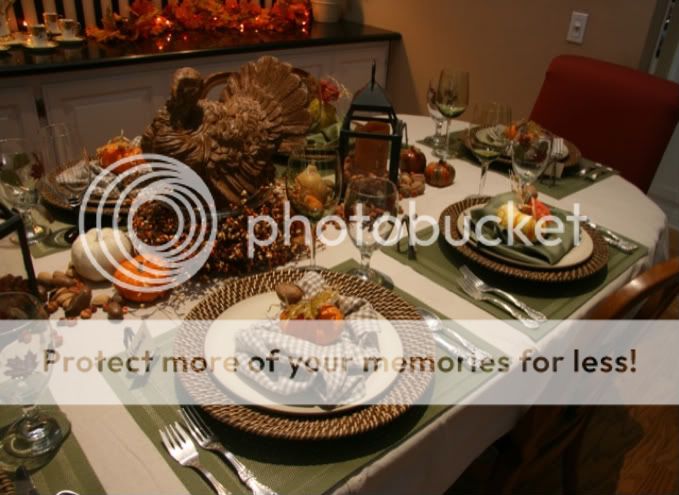 Tom Turkey, flanked by two lanterns, is making his Thanksgiving debut.
He sits atop a small glass cake plate surrounded by an orange and yellow pip berry garland.
Alternating solid and checkered napkins are placed in the center of each dinner plate.

A variety of nuts and a few mini pumpkins are scattered lengthwise down the table.
Pumpkin salt and pepper shakers sit at either end of the table.

Two special details (One is a little surprise.) can be found at each place setting. Both came straight from
The Craftberry Bush
, a marvelously creative and crafty site full of all sorts of goodies.

Along with a single fall leaf tied around each pumpkin or squash, is a whole walnut shell containing a small slip of paper, much like those found inside fortune cookies.
On each slip is a bit of Thanksgiving Trivia. (Did you know a full grown turkey can have up to 3,500 feathers?)
Prior to eating, guests crack open their Thankful Walnuts and read aloud what is written on the slips. Instructions for making Thankful Walnuts, along with more ideas about what to include on the secret slips, can be found on
this page
of
The Craftberry Bush
.
Place card holders are made from four short twig branches. Just a dab of hot glue and they're ready.
Craftberry Bush
instructions are found
here
.

The wine and water glass arrangement is opposite of traditional stemware positions. The grouping looks more pleasing with the taller goblet to the left.
Though they appear to be a linen weave, the placemats are a wipe-clean vinyl.

Dinner plates: Heathware Pottery, Sandalwood, coupe design
Placemats: WalMart
Salt and Peppers: Hallmark
Woven chargers: eBay
Tablecloth: Painter's Tarp, Lowe's
Wine Goblets: Certified International, Olive Green, Amazon.com
Sterling: Reed and Barton, Burgundy
Water Goblets: Dollar Tree
Lanterns: Pottery Barn, Malta Lantern
Turkey, Tai Pan Trading Company